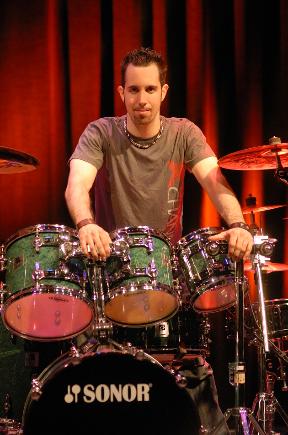 Charlie Z:
The reason that many guys are branching out into other facets of the industry is because the
Session Drummer scene has been reduced to a shell of what it once was in the glory days of
recording. Years ago, guys could just live by working solely in the big studios of NYC but many
have closed such as Sony Music Studios and The Hit Factory. There are only a handful of big
studios left in NYC like Avatar Studios and not many major artists are going out on tours
successfully. This is due to the public not buying full albums or checking out concerts as much
anymore in addition to internet piracy and the greater popularity of TV & Movies taking up
everyone's entertainment budgets. These days, most drummers have their one or two main gigs to
pay the bills which are likely to be major Pop/Rock Tours, Broadway Shows, Teaching, Music,
Directing, Bandleading, Film Scoring, Orchestrating, Drum Educational Materials or any number of
other gigs. For me, I'm a player first and foremost so I take all sorts of odd gigs between the big
gigs I do. I've subbed on clubdate bands, wedding bands, tribute bands, classic rock gigs, jazz,
fusion and bigband gigs, prog and metal gigs, hiphop and r&b gigs, all sorts of cover gigs and tons
of singer/songwriters, pop artists and rock bands. This is all in between getting the big calls for
artists like Jordan Rudess from Dream Theater, Terry Bozzio, Blotted Science and The Great Kat
among many others. I've put together, played drums and was the Music Director for bands for major
events playing jazz at Lincoln Center, playing pop at arenas opening for Bon Jovi and playing Latin
with tons of the top session cats here in NYC. I've also recorded on all sorts of crazy projects in
NYC and online with my full Protools rig with artists and bands all over the
world. The combination of all these things is what really keeps me afloat to keep the bills paid and
also keep my thirst for versatility and wanting to explore all styles of music in check. So thats a long
way for saying that its partly out of necessity and partly out of a desire to keep things fresh and
keep pushing myself as a drummer, musician and person. I don't teach nor do I have any day job
whatsoever and have kept this thing going for many years now. To keep things in perspective
though, I've been drumming for 20+ years and have been pro for about 10 of those years.

Charlie, Thanks for taking the time to talk to SRC. You are a Session Drummer, Music Director and Bandleader. It seems that these days many
drummers are more active in areas other than behind the drumset.To what do you attribute that, and what got you involved in the other
aspects of the music business?

The way I got into the non-drumming facets of the industry was a desire
early on in my musical life to be the most complete musician I could possibly
be so I wouldn't be seen as just another drummer who can only play the
drums. I did as many musical things as possible growing up including
percussion in concert band, singing in choirs, playing in jazz bands, cover
bands and original rock bands. This lead to me performing drum solos at
my high school talent shows where I impressed the coordinator so much
that I eventually was able to help lead and put together special groups for
each performance. Then I went to college at Drew University in NJ for music
and studied theory heavily and wound up founding and leading the Jazz
Program there for a couple years since they didn't have one. I had a full
Bigband, a ton of Jazz Combos and even did full-length Musicals there as a
Director, Producer, Music Director and Promotor with me playing drums in
everything I did. I also studied under some killer teachers like Tommy Igoe
(Lion King on Broadway & Session Drummer) while at college and he got
my technique and overall playing fully together. I have been recording
myself and anyone I could get together ever since I started playing the
drums as a kid too. I started on two Radio Shack mixers attached to a
normal cassette player to do overdubs and then branched out onto a
4-track tape recorder. Now everything I do is on Protools of course, but I
knew how to get good sounds with a single mic stuck into the ceiling of my
basement as a kid both from an engineering/producing perspective and
also from a drumming perspective.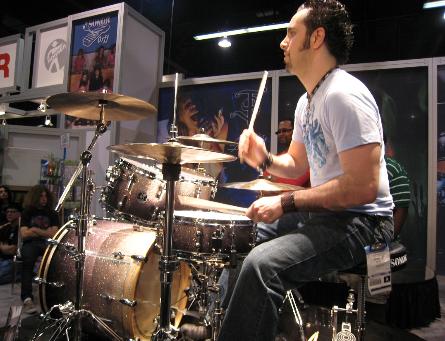 So I have had a pretty big leadership resume and lots of experience leading up to where I am today with not only drumming but also leading
bands, producing, recording and knowing the business.I wouldn't trade all this experience for anything in the world especially since when things
get slow with one of the many balls I have to keep juggling in the air, I can draw from another ball to keep the money coming in and also keep
things fresh.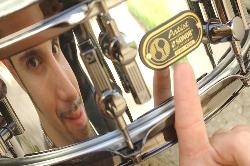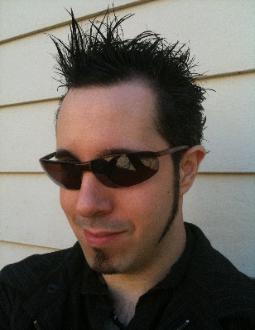 What are you currenty working on?


Charlie Z:
I am currently working on a ton of different projects. My main gig for right now is Music Directing,
Bandleading and playing Drums for a 12-Piece Latin Bandout here in NYC. The project name is
"Cracked Latin" and the band is backing a duo of artists signed to Sun Ra's "Transparency Records."
After working out the budgets and calling all my session musician friends I put together an
unbelievable roster of musicians:

Bashiri Johnson on Percussion (Michael Jackson)
Mark Soskin on Piano (Sonny Rollins)
Richie Cannata on Sax (Billy Joel)
Brad Mason on Trumpet (John Mayer)
Clark Gayton on Trombone (Bruce Springsteen)
Matt Beck on Midi Guitar (Rob Thomas)
Leo Traversa on Bass (New York Voices)
Dina Fania on Vocals (Transiberian Orchestra)
Victoria Cave on Vocals (Steely Dan)

You never know how long any gig will last in this industry especially since
the recession, but right now this gig is taking up a lot of my time but it
definitely has its rewards both monetarily and organizationally. I'm doing
crazy things like charting out the full album into Finale scores (computer
notation software), arranging the tunes to be played live with horns, I'm
also helping a bit with the booking and promotion, I'm helping out with the
audio/video recording and editing of live gigs, booking all the rehearsals
and telling everyone what to play where. I have to pick the sets, who
solos where, deal with the budgets for everyone while making sure the
two main artists are happy with every single thing we do. When you are
dealing with labels,
management, artists and lots of money, you've got to spend tons
of extra hours double and triple checking that everything is perfect
leading up to rehearsals and gigs. I am also playing drums of
course and am having a good time playing somewhere between
jazz fusion master Dave Weckl and top session drummer Shawn
Pelton on the gig. Its always a blast to play on the same gig as all
the top session musicians but its an extra cherry on the top to
be the guy in charge and call the shots.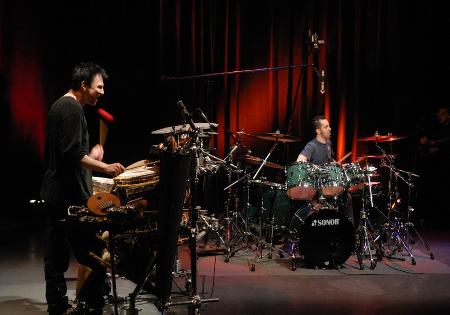 Outside of that, I am editing the Charlie Z/Terry Bozzio Drum Duets I recorded on HD Video for the Drum Channel to be released later this year.
He also sat me down on the couch for a full hour interview too which was very cool too.

I'm playing with and producing a couple pop artists out here in NYC and am trying to help get them signed to major labels besides doing tons of
pickup and sub work on everything I mentioned above.


I'm getting called for a bunch of tribute bands that pay well like the top Journey band out here and a newer U2 band which is a blast too. I'm
getting a bunch of calls for different studios in NYC too like sessions at Monster Island Studios where they recorded all the Avril Lavigne and Katy
Perry drums.


I'm also keeping very busy in my own Protools studio recording drum tracks for artists all over the world. I'm currently recording albums with
artists/bands in England, Israel, Australia, Germany, Oregon, Maryland and Texas. These sessions pay great but also enable me to be hired as
a featured artists with a lot of creativity in the whole process which is especially rewarding.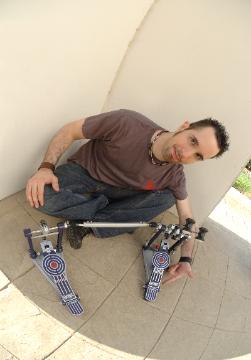 I'm doing a bunch of product specific video work for my wonderful endorsers which are up to 10 now:
Sonor Drums, Paiste Cymbals, Evans Heads, Vic Firth Sticks, Rhythm Tech Percussion, Hansenfutz
Practice Pedals, Onboard Research Beatnik Practice Pads, Audix Mics, Duallist Pedals and Protection
Racket Cases.


I'm also starting to put together a Clinic Tour for later on this year and am currently putting together
some Drum Educational material for future DVDs and Books/CDs. I'm also working on getting a bunch
of press, ads and articles for that too in all the major publications.


I've got a couple cool jazz fusion trios I've been playing with out here too and am the drummer in a
17-piece Bigband to keep my chart reading skills up.


So I'm fortunately keeping very busy these days, but since there is a recession, everyone doesn't
have a lot of work happening all at once.Thats how I'm able to juggle everything right now with minimal
conflicts. If things turn around for the economy and everyone gets really busy I'll have to make some
tough choices on what projects to pursue the most.

The latest installment of SRC's Exclusive Interviews features Charlie Zeleny. In each interview to
date, we have gotten to scratch below the surface, and Charlie Zeleny gives us an inside look into
the different elements of his career. As you can see, it is like pulling teeth to get answers out of
him! Actually, I enjoyed his passion about his craft during the process of putting this together. I
hope you enjoy reading it.