Sonormuseum has the honor of speaking with Sonor Managing Director Mr. Karl-Heinz Menzel. He gives some insight into the past, present and future of Sonor, as well as his own history with the company. We hope you enjoy...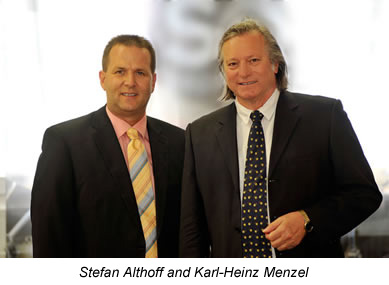 JR - First of all, thank you for your time. I, as well as many of the people reading this will be anxiousto hear your perspective and to get some insight to the things going on at Sonor. Would you begin by giving us your history with Sonor, and prior to joining the company? Are you a working drummer in your spare time?

KHM - My professional background and education is engineering and development. I joined SONOR in February 1977, acting as a semi professional drummer at this time. When I started, I was responsible for "Custom Made" Drums only. Being involved in all manufacturing processes, this time gave me the opportunity to learn everything how to build Drums & Hardware, analyzing wood and metal compositions. Later on I was in the development team of the legendary Signature Series, followed by SonorLite -, Hilite - and Designer series. After running the international artist relation department, meeting the greatest drummers at this time, I was responsible for product management and international sales and communication. Since the year 2000, together with Mr. Stefan Althoff in the position as Managing Director of SONOR. Because of extensive business travel activities almost no time to play at these days :(.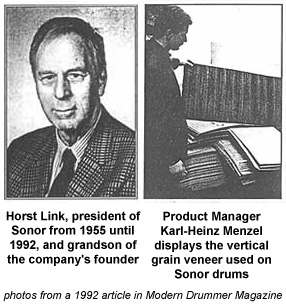 JR - How were things different working with Mr. Horst Link compared to the corporate structure that seems to be in place now? How has that effected the day to day operations and the product line?
KHM - It's hard to compare the "old" times with today. Just take the communication possibilities at these times, at 1991 when Mr. Link left the company, no E-Mails were around for example. It's completely different. But basically, it was a family managed company back then and today with the corporate structure the global positioning is much higher than it used to be. This includes Sales, Manufacturing and Purchase resources.
JR - Sonor's manufacturing has globalized significantly in recent years. Do you feel that has been a positive thing for the high end consumer, or a detriment to the perception of the company?
KHM - In the mid 90's we have set the goal to raise our international presence and grow our business. This could only be achieved by addressing new consumer groups and look for new production locations. All products that we are manufacturing in China are developed, designed and engineered in the German headquarters. They are built on SONOR's Quality Standards. On top of that, all our made in Germany products are meeting the needs of the high end consumer more than ever. Today, I am glad to say that we have achieved our goals and we have worked our way into the top group of drum brands.
JR - How do you feel about the current product line? Even in the lower end there is a good coverage of options in shell materials and sizes. It also seems that Sonor has covered the entire spectrum of price points, and has really raised the bar on finish quality and the number of finish options. Do you feel that the current catalog represents Sonor's most diverse product line to date?
KHM - Yes, I would totally agree that the current catalog is by far the most diverse product line to date. We are reaching beginners to professionals. Every product line has its customer with specific needs and wishes and not only with the lower lines we are meeting exactly their perception. This is what makes the catalog so diverse in finishes, sizes, features etc. Furthermore, another very important fact is that SONOR is the only company in the industry to manufacture all types of percussion: Drums, Education, Latin and African Percussion as well as Marching instruments!
JR - With so much quality work going on in China, has it been difficult to make decisions on where to produce particular items? One may feel that items like the Giant Step pedals, and Artist series snare drums could be produced in China with a significant reduction in retail price with little discernible, if any change in quality. How does a decision to move production get made?
KHM - The products we are manufacturing in China are exactly adjusted to the production environment. As pointed out before we want to offer the right product for each of the consumer groups. However the SONOR brand stands for highest quality, innovation and German engineering. As in every industry there are high end consumers that exactly ask for these "features". In opposition to most of our competitors who build their high end products in Asia, we strongly believe that we can realize this demand here in Germany in the most optimal way.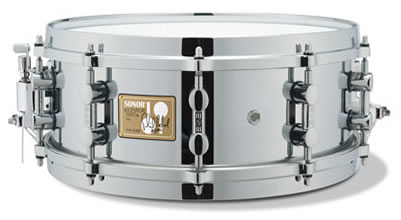 JR - The Chinese made Phil Rudd Signature Snare Drum seemed to be well received on the dealer and consumer level. Do you feel that it helped change perspective of Chinese production in the minds of the consumer? Can we look forward to more snare drum projects with such an attractive price point?
KHM - Yes, there will be more projects, time will tell. This specific drum was well received because of the price performance ratio internationally. But I don't believe that only one product can change the basic perspective of Chinese Production of the consumer. Since the manufacturing standards and processes in China significantly changed in the last years I do believe that the basic perspective has changed as well on the consumer side, compared to about 20 years ago. When we made the production step in the 1990's with the Force series into China, it was important for us that the SONOR spirit carries on and consumers can rely on the product quality that they are accustomed to. People were much more critical these times.
JR - Sonor really raised the bar with production quality, design, and features three or four decades ago. Time moves on, and Sonor has changed to move with the times. Does a portion of the consumer base still want to see things done the old way? Would there be a market to support a revival of the old school, heavy equipment? How do you deal with such inquiries? Do you feel that things like the seamless snare shells and drum hoops were a factor in Sonor's perceived quality, and do you feel that the integrity of the brand is hindered by no longer making those items?
KHM - SONOR has set innovative milestones and trends throughout the company history, including Signature Series, Designer Series, Giant Step Pedals and SQ² Series. But we always also moved on with time, because the consumer himself moved on with time too. We are more than happy about our huge worldwide vintage community but a revival of old series would put it on a par with copies of the original old series and we know that this is not what the vintage enthusiast is looking for. Thank you for asking about the seamless snare shells and hoops. While we're at it I would like to clarify some of the misunderstandings and rumors that are in the market. There is exactly one reason why the seamless shells can't be produced nowadays. The raw material for the extreme flexible Ferromanganese steel is simply no longer available for us.
JR - How do you feel about the industry's tendencies in terms of endorsement deals? Would you compare and contrast Sonor's general endorsement policies to others in the industry for us, please?
KHM - We have a clear policy in our work with endorsers. We are striving for quality, not quantity. We want the best artist roster in the market, not the most endorsers. An endorser should be loyal to the company and somebody we can work with in our marketing and product activities. Looking at the roster, there is a number of artists on the list that are associated with the company for years and decades and we are proud to have such a long relationship with them.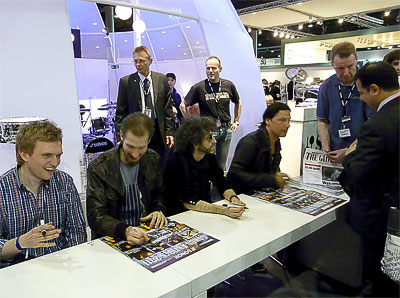 JR - Have you found that the loss of an endorser can be detrimental to Sonor? Is there a strong connection between particular endorsers and Sonor's actual retail sales? Is losing an endorser and emotional thing for the company, or it is strictly business?
KHM - First off, the relation between the company and endorser is mostly both emotional and business. We involve our endorsers for product development and design as well as marketing and promotion activities so there's the straight business part. But over the years of relationship, you mostly create a personal relationship as well. But unfortunately in our industry it's not unusual that both partners may come to the point of decision to split.
JR - Are you happy with the current direction of the company and of the things you have accomplished in recent years? Do you feel that the company will undergo any significant changes in the 5 or 10 years, such as further globalization, or corporate restructuring?
KHM - We had a strategic restructuring in the mid of the 90's which made the company strong and stable on the global market. I do not doubt that there will be challenges in the future that need to be accompanied with any sort of restructuring.
JR - Do you have any closing thoughts?
KHM - I am grateful for this opportunity and would like to say thank you to all SONOR enthusiasts worldwide. We appreciate all the love, loyalty and feedback throughout the history of the company. It truly means a lot to us and without it, our 136 years of existing would definitely have been less colorful and interesting! Again, thanks so much!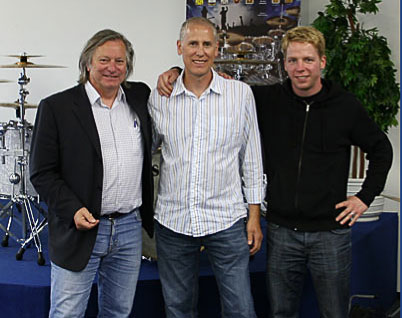 l-r: SONOR General Manager Karl-Heinz Menzel, forum member Sam Galizia from
Sam I Am Studios and SONOR Product Manager Drums David Schulz
taken during Sam's recent visit to the factory in Aue.
©2011 Julian Rouse and sonormuseum.com